PRO-Ethics is working with research and innovation funding organisations across Europe to test new, ethical ways to involve citizens in decision making processes.
PRO-Ethics will deliver some very concrete outputs in the form of an ethics framework, together with a set of practical guidelines and actionable criteria for assessing the quality and ethics of participation processes. They have the potential to benefit stakeholders across the EU and beyond.
Project Overview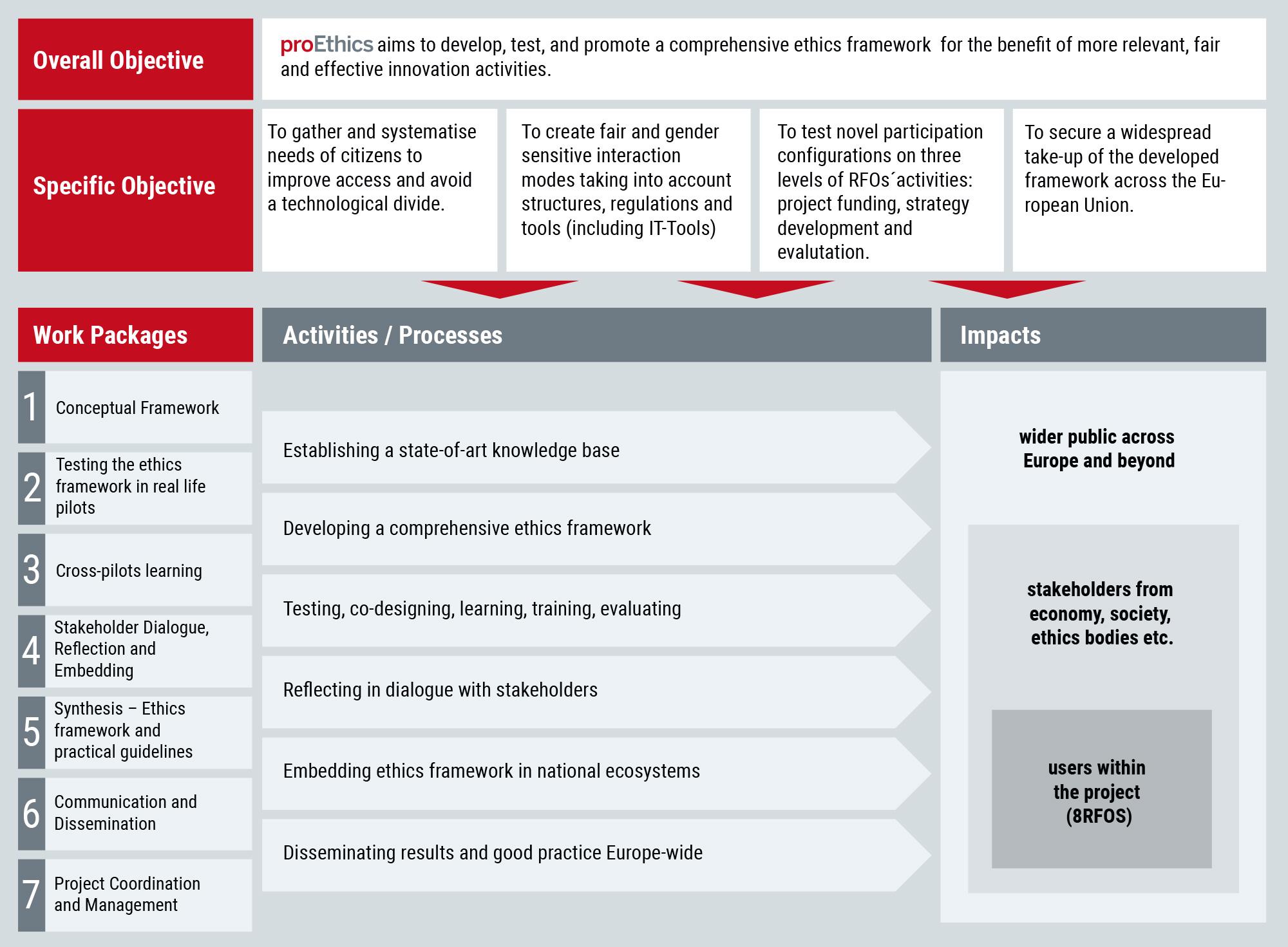 Directly engaging citizens in the development of innovations has gained considerable significance over the last two decades. Research funding organisations (RFOs) hope to create innovative products and processes closer to the actual needs and desires of citizens by gathering the expert knowledge of non-traditional stakeholders such as citizens, public and semi-public caretakers, NGOs, social entrepreneurs, and so on. While this inclusion can be vital in creating a more relevant and effective innovation process, the ways how citizens are included, and the extent to which ethical issues are taken into account are not formalized, and differ widely across different countries and organisations. All these issues are compounded by the question of how to protect participating citizens, and how to avoid any potential exploitation in often hierarchical research processes.

In this context, the goal of PRO-Ethics is to create and test an ethics framework that includes principles, guidelines, assessment criteria, best practice, and proposals on regulatory environments that helps organisations engage citizens without disregarding ethical principles of fairness, transparency, gender equality, privacy, and sustainability.

PRO-Ethics does this by employing an iterative process with learning loops between eight participating RFOs, five expert partners and two international organisations. The ethics framework will be developed, applied, tested, and validated through 11 practical cases and experimental pilots. While PRO-Ethics has a Pan-European outlook, it incorporates and compares local conditions and other specific and cultural characteristics of the partnering RFOs from Austria, the Czech Republic, Germany, Lithuania, Norway, Romania, Spain, and Brussels, which implement the PRO-Ethics cases and pilots.
Structure »
Get in touch with us
Feel free to send us a message. We will get back to you as soon as possible.
Danke!
Thank you!

We will get in touch with you as soon as possible!


×